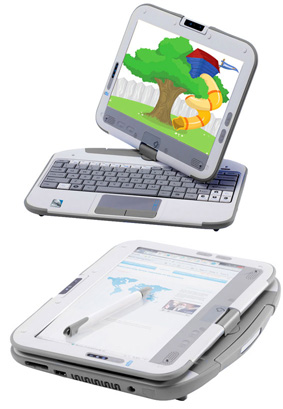 Great news for kids; a new tablet has been launched by PeeWee that is set to attract the children of today. The PeeWee Pivot 2.0 tablet is a nice and cute laptop that kids would definitely love. From far, it looks just like these laptop toys that have been released previously for the kids.
Manufactured by PeeWee PC, the PeeWee Pivot 2.0 Tablet has been made and designed after the Intel-powered Classmate PC. This one comes with a nice and modern touchscreen display that can rotate 180 degrees thus making the screen lie flat on top of its keyboard. It also sort of give a suitcase look to the laptop hence making it a resistive touch tablet that kids would love to carry around.
Since the $599 PeeWee Pivot 2.0 Tablet is for kids, we hope the design and features are childproof as well. It's not that big measuring at 7.6 by 10.5 by 1.2 inches (HWD) and weighting at 3.7 pounds. It comes with a 10.1-inch touchscreen that features a resolution of 1,024-by-600 pixel. This laptop/tablet runs on Windows 7 Starter and is powered by a 1.66-GHz Intel Atom N450 CPU.